Mike Gleason and "The ESM Photo Blog: Ice Road Truckin'"
THE ESM PHOTO BLOG: ICE ROAD TRUCKIN'
Chipping Away At One Of The North Atlantic's Last Frozen Mysteries, Part I
Words and photos by Dick "Mez" Meseroll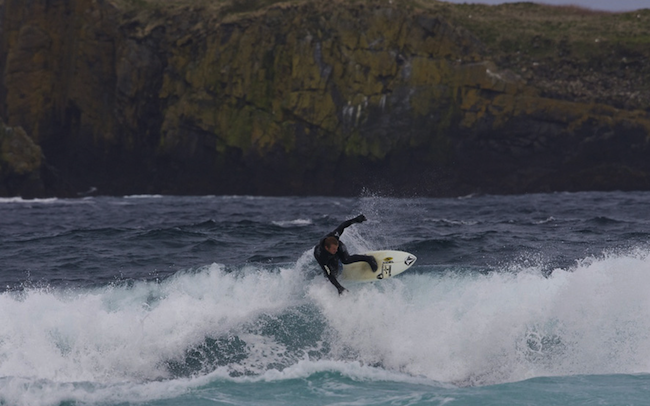 I had to ask myself one more time before picking up the phone to rally a crew — how bad do I really want it? How bad do I want to stick my neck out and put their asses on the line in calling up Buxton, NC's, Brett Barley and my fellow Jerseyite homie, Mike Gleason, to cajole them to join me, along with the Canadian Maritimes' Logan Landry and budding Mooseville videographer Mike Bromley, on one of the all-time missions of my career — and certainly since Tom Dugan and myself started ESM over 20 years ago?
Well, considering I have wanted to explore this amazing piece of North Atlantic real estate for about as long as I've been pushing a shutter button on a camera, I've wanted it pretty damn bad for a long, long time.
I wanted it bad enough to the point of even smooth-talking (i.e. attempting to bullshit) my girlfriend Tonya into taking a 10-day "vacation" there five years ago to search a couple of glacially misshaped peninsulas that could hold a possible treasure trove of breaks.
"I know it might be a little cooler climate than you prefer, sweetie, but they have all the cheap, coldwater lobster you can eat, quaint, romantic B&Bs all over the place and, oh, I rented us a sweet, MACKING, four-wheel drive Tundra to, well, you know, drive up, over, around, and through any little off-road obstacles we might encounter as we're sightseeing and hiking through all those forests covering all those headlands and coves and points and crescent beaches."
"And (wink wink, nudge nudge) pay no attention at all to those 45- to 55-degree June air temps, sweet cheeks, because when we get there I'll buy you a nice wool sweater, mittens, and a beanie to handle that — plus you won't even need to worry about buying and bringing bathing suits!"
Being the trooper she is, and after calling total bullshit on my weak ploy within about five seconds of proffering it, we finally flew in to this piece of surfing mystery and, after 10 days of climbing every beautiful coastal hill, dale, valley, and mountain, we found… zero waves to ride.
It was dead flat the whole time — probably the only time in the history of the place — and I never pulled out my wetsuit or unsheathed the board from its bag.
The only thing we saw was a handful of interesting setups with no swell on it, providing me with no hard evidence that they would, or could, turn on if a decent swell lit them up.
And that was about all I could come up with in the way of hard info for Brett and Gleason, along with some tidbits from our Canuck counterparts Logan and Mike, who — for better or for worse — signed up for "Mission Iceberg."
And, as my photo blog here will attest to visually, so far, not so good.
Along with the chilly, 30- to 35-degree daytime air temps (feeling like low 20s with the 15- to 25-mph-plus northeast winds howling) and some really shithouse chop to surf our first two days up here, the swell models are showing several days of decent swell on the way mid-week and we are combing the maps to hopefully find the right place to meet it.
As I finish up my pan-fried cod in the hotel restaurant and tap out the first installment of this exclusive ESM Phlog on the MacBook Pro, I'm hoping that by my next post at week's end we will have found the surf we have come looking for, that we capture it all on film and video, and that I finally get to fulfill my own dreams of scoring some great surf in one of our ocean's last great unknown wave fields.
We all want it and we want it badly.
But I know nobody wants it more than me, because it's my neck — and my ass as well — on the line if we don't.