My Oceanside Limited Book and Photo Exhibit Release
Celebrating a homage to a special town, "My Oceanside" Limited Book and Photo Exhibit Release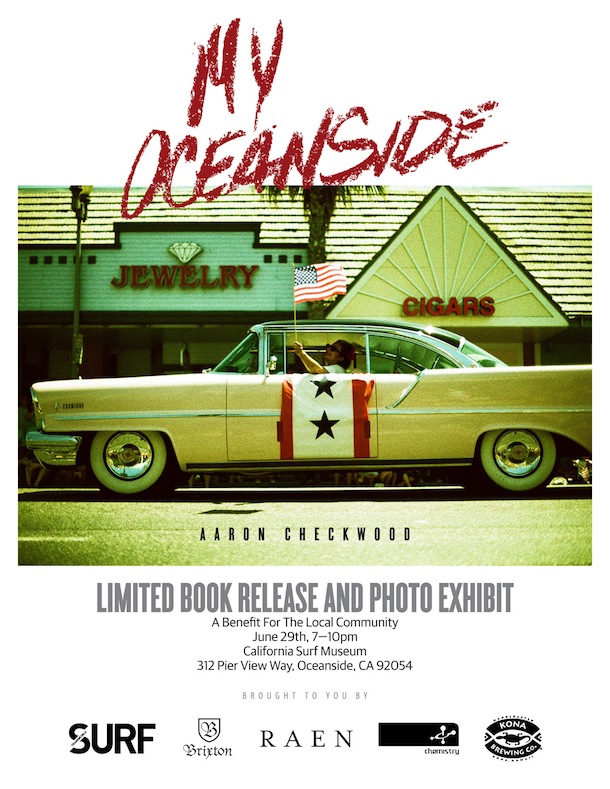 Our good friend Aaron Checkwood will release a limited edition book and photo exhibit at the California Surf Museum in Oceanside, California on June 29th, 2012 from 7-10 pm. The opening party will feature framed imagery from the book, select hand-screened posters, and a limited amount of author signed books for guests to purchase. Focusing on a collection of photos showcasing life in Oceanside, Aaron deems this a tribute to a city whose people and landscapes are as diverse as the cultures that make it special. "The exhibit is just a snippet of the daily life of a vibrant, eclectic area that stands as the last bastion between San Diego County and the rest of the world," expresses Aaron.
The exclusive exhibit will run through September 4th, 2012 with proceeds from the opening party to benefit the California Surf Museum. The event is proudly sponsored by Oceanside businesses Brixton, Raen, Chemistry Surfboards, and TransWorld SURF magazine.
About Aaron Checkwood: With two parents living in two completely different areas of California as a child, Aaron Checkwood spent his younger years going to school in Northern California and his summer in Oceanside with his dad. He eventually moved back as a teenager, graduated from El Camino High School and has used Oceanside as his home base ever since. Today, he's the Photo Editor and a photographer at TransWorld SURF magazine and travels the world documenting famous surfing destinations. After ten years of capturing so many beautiful places, to him, nothing compares to his hometown and those warm July days at Buccaneer Beach with his friends.