Robo Wins Bells Trials On His Flash Point
Adam Robertson has done it again by winning the trials at the Rip Curl Pro, Bells Beach. This time he did it while riding his 5'10 x 19 x 2 3/8 Flash Point model shaped by Jason Bennett.
If anyone knows Bells, it's Adam Robertson. Hailing from the far west coast of Victoria, Robo is based in nearby Jan Juc, where he's steadily been working his way up the WQS rankings.
At last year's Rip Curl Pro, Robo blew away all comers en route to becoming the first Victorian in decades to make the final of the contest. Although his roll through the contest was stopped by a rampaging Joel Parkinson, Robo had the local crowd firmly on his side as the final went down in epic conditions.
Now the lone representative from Victoria, Robertson will face Bede Durbidge (AUS) and Adrian Buchan (AUS) in the opening round of competition. Keep a lookout for Adam when the competition begins as he is looking forward to mixing it up with the best at his local spot again.
Follow Robo on his blog moborush.com.
The Rip Curl Pro Bells Beach will be webcast LIVE via www.live.ripcurl.com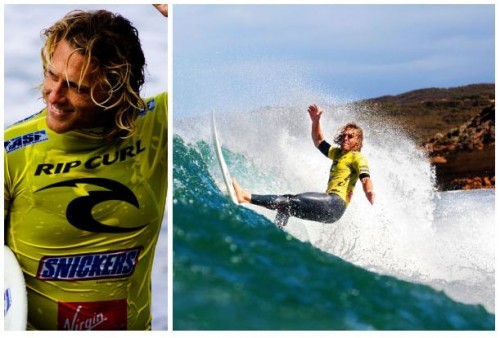 Trials and Rounds 1 Rip Curl Pro from Mobo Rush on Vimeo.
RIP CURL PRO BELLS BEACH ROUND 1 MATCH-UPS:
Heat 1: Dane Reynolds (USA), Andy Irons (HAW), Nate Yeomans (USA)
Heat 2: Damien Hobgood (USA), Luke Stedman (AUS), Matt Wilkinson (AUS)
Heat 3: Bobby Martinez (USA), Jeremy Flores (FRA), Tanner Gudauskas (USA)
Heat 4: C.J. Hobgood (USA), Tiago Pires (PRT), Travis Logie (ZAF)
Heat 5: Kelly Slater (USA), Mick Campbell (AUS), Marco Polo (BRA)
Heat 6: Adriano de Souza (BRA), Kekoa Bacalso (HAW), Blake Thornton (AUS)
Heat 7: Taj Burrow (AUS), Daniel Ross (AUS), Neco Padaratz (BRA)
Heat 8: Mick Fanning (AUS), Kai Otton (AUS), Stuart Kennedy (AUS)
Heat 9: Joel Parkinson (AUS), Chris Davidson (AUS), Gabriel Medina (BRA)
Heat 10: Bede Durbidge (AUS), Adrian Buchan (AUS), Adam Robertson (AUS)
Heat 11: Jordy Smith (ZAF), Patrick Gudauskas (USA), Jay Thompson (AUS)
Heat 12: Taylor Knox (USA), Michel Bourez (PYF), Adam Melling (AUS)
Heat 13: Tom Whitaker (AUS), Jadson Andre (BRA), Brett Simpson (AUS)
Heat 14: Kieren Perrow (AUS), Ben Dunn (AUS), Dusty Payne (HAW)
Heat 15: Fredrick Patacchia (HAW), Owen Wright (AUS), Drew Courtney (AUS)
Heat 16: Dean Morrison (AUS), Luke Munro (AUS), Roy Powers (HAW)