The Summer Youth Clash
It's going down September 3rd & 4th. Proud that the idea is coming to life. Thank you to all the sponsors that have helped make this possible.
North County Brands Unite To Present First Ever Summer Youth Clash Junior Pro In Oceanside
August 15, 2014 (Oceanside, CA) – For the first time ever, a unique event in Junior Pro surfing is coming to Oceanside presented by Chemistry, Brixton, Nixon, Raen, and Surf Ride. The "Summer Youth Clash," will be held September 3rd and 4th at the North Jetty in Oceanside Harbor and the brands are getting behind it in the hopes of creating one of the most unique contests for the summer. North Jetty is known as one of the most consistent waves on the coast and the event will bring Pro Juniors from all over the country to battle it out for a share of the 6,000 dollar prize purse and bragging rights as champion of what all the brands are hoping becomes an iconic contest like the great events of Oceanside's past. "Our goal is to bring back the great contests of Oceanside I used to enjoy as a kid," says Raen's Jeremy Heit, "All of us are hoping the Summer Youth Clash becomes one of the more memorable events for years to come."
In addition to the Clash, Nixon will be hosting it's famous Weird Board contest where Chemistry's Jason Bennett will create 8 uniquely shaped boards and an invitational list of juniors surfing for a $1,000 winner-take-all prize. Competitors and spectators can look forward to an overall creative event of 64 contestants with a fun beach atmosphere filled with DJ music and food catered by the award-winning Privateer Coal Fire Pizza in Oceanside.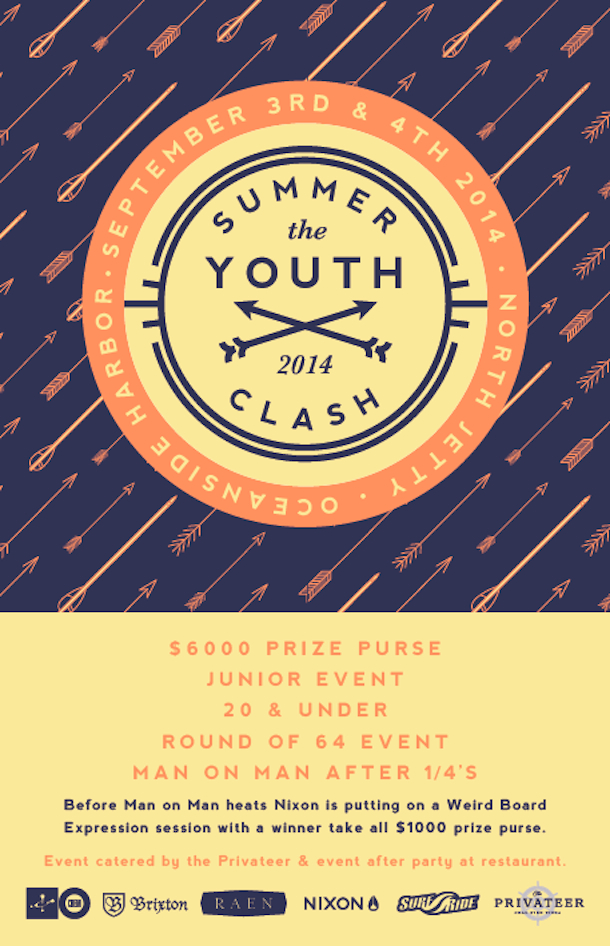 Click the following link to download the entry form: SYC_Entry
Mail entry and entry fee to: Surf for the Sea, 904 Leonard
Avenue, Oceanside, CA. 92054. Check payable to Surf for the Sea.