Surfline Spot Check Oceanside
Where we call home is live on Surfline. Oceanside is the featured Spot Check currently on Surfline.com and Jason Bennett and Chuy Reyna had the honor of doing the commentary.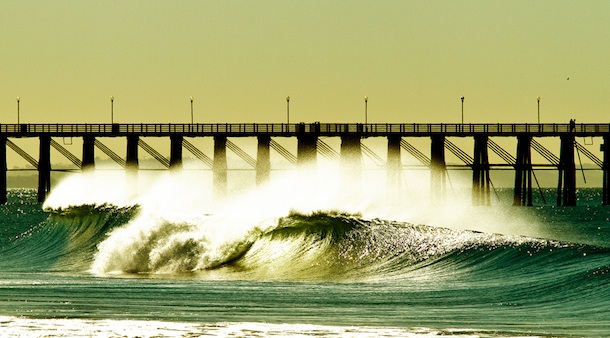 Surfline, "Although the butt of San Diego County rests on the most heavily crossed border in the world, many San Diegans have long considered their frontline to be Camp Pendleton in the north. This line of defense isn't held against any third-world nation, but a first. The 17 miles of softly trodden coast between Trestles — which is technically just inside the San Diego county line — and Oceanside is said to be the only break in the string of stucco strip malls and planned communities that would someday have stretched from Oxnard to Tijuana. Whether an actual, or just emotional, defense, these miles of coast are imagined to have held the garishness of Orange and L.A. counties at bay.
Oceanside, the northernmost coastal city in San Diego County, has carried the weight of Camp Pendleton for almost a century. Its main drag caters to hot-rodding Marines and inland tourists. There are car dealerships, motorcycle dealerships, watercraft dealerships, head shops, $5 barbershop specials, Angelo's, Roberto's, Alberto's, Robertito's, Anita's, a bowling alley and a Dairy Queen. Add to this a mixed civilian population, including a large community of South Pacific Islanders, and you get a beach town as interesting as its surf is consistent. Many of its attributes would be foreboding of the region's character if it weren't for Oceanside's enduring, po-dunk charm. And, despite its burdens and reputation as a rough town, Oceanside is easily one of the most livable surf communities in the county.
Although sandbars move and shift along this stretch continually, there are consistent breaks on the north end at the harbor's north and south jetties, and on both sides of the pier. These spots will most often have a crew of surfers on them, but, on better days, the peaks up and down the beach will be just as good. Oceanside is angled to receive southwest swells more readily than the beaches of central San Diego County, and, during southwest swells, it attracts surfers from all parts of SD. From the Interstate 5, take Mission Avenue west until you run into the beach. Take Pacific Street north to the harbor, or south for plenty of parking and easy access to the pier.
Check out the full photo feature here: http://www.surfline.com/surf-news/spot-check-oceanside_90181/