The East Coast Tour
When I think of the east coast I think of flat waves, humidity, and crab cakes. This was NOT the case on our east coast jaunt this year. In fact, the words I would use to describe my quest to the east coast are: sick waves, Coors lattes, lightning storms, hot girls in bikinis literally everywhere, good buds, and Brooklyn pizza. Id say the only thing I was right in expecting was the humidity. Anyways, Ill break down the whole thing now.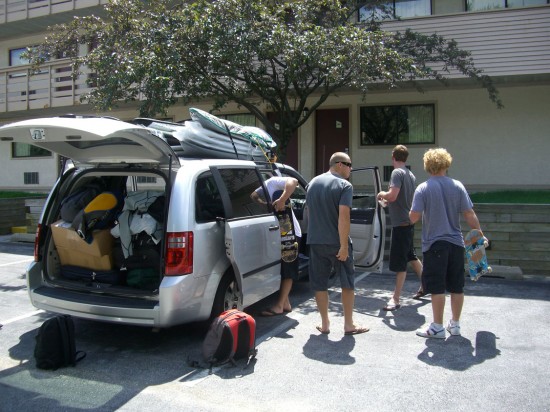 We started off with four guys on the west coast soon to grow to six by the time we hit back east. We flew into Baltimore, MD around 11 at night. The crew consisted of all around rippers Myself, Jason Bennett, Willie Smith, bodyguard and Hawaiian Bryce Carrier, and professional bush pig hunter Sage Spengler. Our transportation and tour guide for this pilgrimage was none other then Mike Gleason (pro surfer and all around buff, rad guy) so we were in good hands. Anyways we found out real quick that if you are a beer-drinking enthusiast you should probably never visit Baltimore. Liquor sales stop at ten p.m. there and for some reason all the people we asked about the place just asked us why the hell we would come there, like its the bubonic plague or something. So anyways we cram in to our awesome tour van (mini) the next day and head out to Ocean City, MD. Ocean city as far as Im concerned is the miniature golf capital of the world. Sometimes you will see like three miniature golf places on one block its pretty awesome. Our first shop we hit was Malibus which literally on the boardwalk. Its one of the coolest surf shops Ive ever been to and the people who run it are pretty much legends. So we get settled and I wax up my shralp torpedo (surfboard for all you haoles) to go for a surf in front of the shop. Right when I get there I see all the boys from the shop taking down some shoplifter trying to get away! I was amped up I had adrenaline going and everything! I looked at one of the other shop employees and he was completely nonplussed. I guess that stuff happens everyday and those guys just get to sell surf stuff and beat up shoplifters. Not a bad gig! So anyways we surfed and everyone ripped and it was fun. Then we celebrated our gnarlyness at a bar called Pickles which had a special shot made from pickle juice and vodka. Call me crazy but I loved it. Jason Bennett also gave us a visual on how to dance to hip-hop when youre a portly white guy.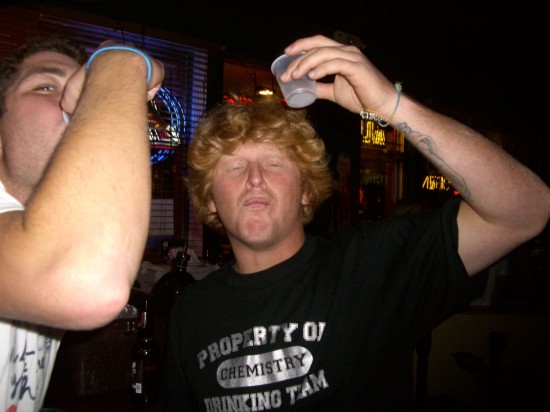 So the next stop on our list was a little gem of a surf town in New Jersey called Long Island. We took a fairy from Maryland to jersey and had to stop at a couple shops on the way though. Unfortunately someone must have messed up on the shop addresses or something because when we walked in to a couple of these "surf shops†there were guys with white sunglasses and tank tops with spiky gelled hair that like to shake your hand real hard. How did we end up in a gay bar??? Weird. So we get to long island and go to a shop called Farias. It was an awesome shop with a lot of cool employees and people hangin around. Gleason and I signed a couple posters for groms, and Jason manhandled a bunch of surfboards. So then we heard about the local secret spot and that it was gonna be good so we checked in to our hotel and went for a surf. So I get out there and Im blowing it as usual and I look down in the water and there were all these little cockroach lookin things swimming around in the water! I asked the loc dog we were there with and he said they looked like little leeches or something!!! Gross! They dont call it dirty Jersey for nothing!!! Anyways we went out with Brian from Farias and his girlfriend gave us all these little bottles of vodka that light up when you pick them up and that was cool. Our hotel just happened to be the hippest dance club in town (how did that happen Brian?) so we went out again and tied one on. Then all six of us slept in one room like little man sardines.
The next stop on our crusade was a little slice of heaven known as Manasquan, New Jersey. Let me just say that if I didnt have ties to all sorts of random crap out west here, I would probably move to Manasquan and be a bartender at the parker house. We visited a shop there called Inlet Outlet and its one of the cooler shops out there. They are smart there because they hire a bunch of hot ass chicks to work the store so they just bat their eyelashes at guys till they buy something. Good work Kenny and Stevie. Our main brodazaffa we hang out there with is this guy Rabbit. He works at the shop and he always takes us to wherever the waves are good. After he usually takes us out in the surf sesh he will then take us out on the town with his girlfriend sally and like five of her friends who all proceed to grind up on rabbit at the same time. Pretty legendary. Shout outs to Gino and Meat face and all you crazy Manasquanians!!!! I forgot to mention the lightning storm we saw. Ill just let the photos speak for themselves it was sick!!!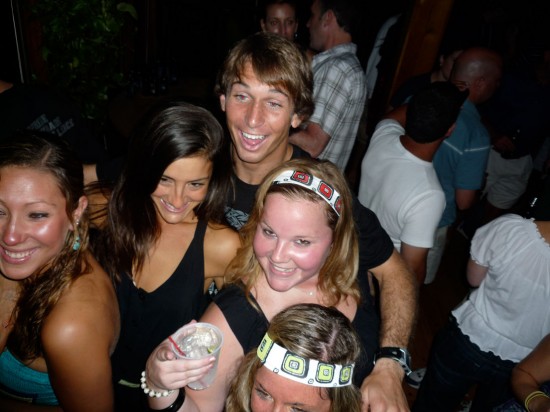 So now we find ourselves headed up to Long Branch, NJ on our safari. First we picked up fellow chemistry pro Blake Jones from Florida, he flew into Philly. Gleason is from Long Branch and is practically the mayor. He got pulled over for driving on the shoulder and the cop just said "hey its little mikey gleason whaddafack are ya doin on the shoulda go home!†And just let us go. Amazing. So we go to the best shop by far on the whole tour. Its called Barewires and its right behind a skate park and next to the beach. We pull up and its more like a backyard bbq then a promo event. Willy proceeds to immediately compound like five bratwursts to his face and I went for a skate sesh. Im not gonna lie I was kinda shredding the gnar and it was fun. Blake was ripping also. Our team bouncer and jock Bryce was kinda wanking but put a good showing nonetheless. So we skate we bro down with everyone at the shop, we had some beers and spread the chemistry love all over Barbwires face. Thanks to shop owners and complete legends Adam Holloway and Charlie King!!!!!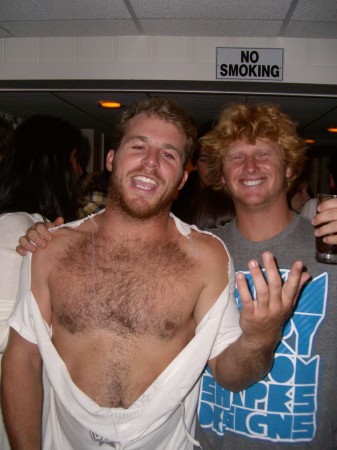 So we are now winding down our epic voyage to the east coast. We had a couple more days and only one shop left. It was in long island, NY. We were pretty weathered at this point just wanted to be done. I should mention that our drinking team captain Sage Spengler had rolled his ankle at Barewires and for some reason looked as though something very big had fallen on top of him, he said it was just from a trip to boomtown whatever that means. Weird. Anyways the shop we went to is called Unsound and it was cool. They had a nice collection of boards and some really cool employees. They also sell wood chips there, which I thought was random. Hey times are tough gotta keep it fresh!
So we wind down the tour with a couple nights at friends apartments in Brooklyn NY. I ate pizza like three times a day and so did Willie. Blake went to canal street on the subway and bought a giant gold chain. He really likes it. No Im not kidding. Bryce bought his shorty something from Victorias secret. They are on the west coast too Bryce! And Jason got to ride the Staten Island ferry, which was where Wu Tang would write all their songs. Sage kept talking about some fantasy world called boomtown, which I have no clue about. I think he hit his head skating too. The last night of the trip was spent on our friend Tamaras rooftop which looks straight at the Manhattan skyline and everyone shared a couple cold Coors lattes up there and way too many high fives probably went down. So till next time east coast and all you honorary members of our elite Chemistry drinking team, remember our credo!!!!!!!
PRIDE!!!!
COURAGE!!!!
EXCELLANCE!!!!!!
Cmags.