The FCS MF-1s Have Arrived!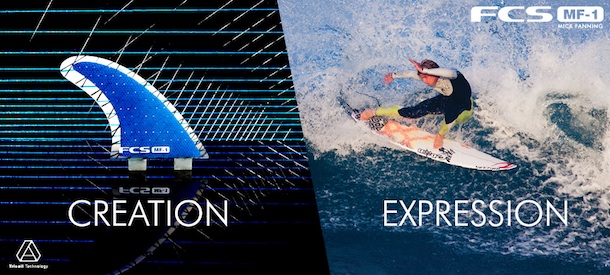 BUY NOW – FREE SHIPPING
Developed by 2 X World Champion Mick Fanning, the FCS MF-1 features Tricoil Technology and is designed for high performance power surfing.
OVERVIEW
Developed in conjunction with 2 x World Champion Mick Fanning
Large fin suited to power surfers
Tricoil Technology (Flex)
Bevelled leading edge
PC Construction
GEOMETRY
FCS MF-1 sits in the large size category (Ideal for heavy or powerful surfers)
Flat inside face on the side fins (Allows for more acute directional changes)
Cross section foil is noticeably thinner than other fins in the FCS range. (Allows the fin to effectively cut through the water with minimal drag)
Side fins have a bevel on the leading edge (Allows for easier rail-to-rail transitions at high speeds)
Long leading edge with high degree of sweep angle (Provides exceptional hold through long arc turns)
PERFORMANCE
The size of the FCS MF-1 makes this fin ideal for heavy or powerful surfers. The long leading edge plus the high degree of sweep angle provides control when driving off the bottom or carving through turns on the open face.
In contrast to its size, the FCS MF-1 feels fast and lively; this is due to the thickness of the foil, the bevelled leading edge, and the use of Tricoil Technology. In this case the customised multi-axial carbon frame inside the fin produces a flex pattern that not only stores and releases energy, but provides a 'whipping' sensation as the surfers performs tighter manoeuvres off the top.
CONSTRUCTION
Performance Core (PC) construction produces a lightweight fin with a stiff base and responsive tip flex. This translates into immediate start-up acceleration and a direct transfer of energy from the surfer to the fin.
The FCS MF-1 also features TRICOIL technology. This dynamic flex pattern is achieved through the multi-axial carbon frame inside the fin. Tricoil flex effectively stores and releases energy as the surfer transitions from one turn into the next.

BUY NOW – FREE SHIPPING