PJ Continues Busy Contest Schedule
The ever busy PJ Raia has continued his run at almost every possible contest available and the last 2 have ended with pretty solid results.
He recently took a win down at the 48th Annual Coastal Edge East Coast Surfing Championships Presented By Vans And Monster Energy; First Street Jetty, Virginia Beach, VA. Winning the Juniors division in pretty good surf, probably the best the East Coast had to offer that weekend.
He also had a really good run in the Smith Optics Garden State Grom Grudge Match Presented by Dakine; Meters, Seaside Park, NJ, placing second. Being that it was the Grom Grudge Match in his home state, which is really prestigious, he was pretty emotional about the "loss". This is the closest year he came to the title and he had a really good chance of taking down his good friend Tommy Ihnken. Congrats to Tommy who was on fire for event. Not bad considering PJ has a few more years to take the crown as he is only 16.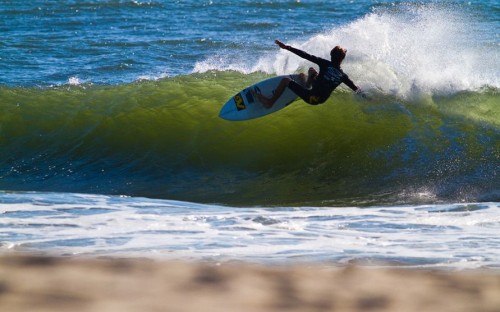 PJ laying it down in pursuit of the Grudge Match title