Surf Ride Pro-Am Surf Series This Weekend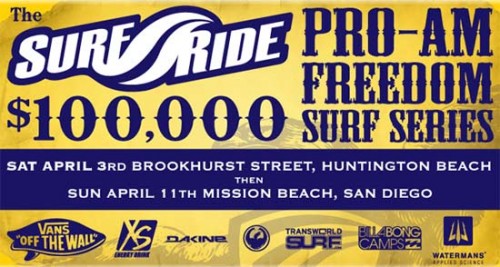 REGISTRATION IS OPEN for stops #2 and #3 of the Surf Ride $100,000 Pro-Am Surf Series Presented by Vans.
Over $25,000 in CASH and prizes await the winners.
Stop two will take place Saturday, April 3rd at Brookhurst Street in Huntington Beach to be followed Sunday, April 11th, Mission Beach for stop three.
Event number one of the Surf Ride Pro-Am Series featured amazing surfing by the likes of Pro winner Chris Waring-who, along with Timmy Reyes, Jesse Merle-Jones and Micah Byrne battled it out in a final that could best be described as "electric". Waring, who's been on a competitive roll in 2010, walked with a cool $5,000 for an afternoons worth of work that was just a short drive from his Huntington Beach home.
"The vision for the surf series has revolved around providing an exceptional contest designed for both pros and family division competitors while benefiting a great local cause. Watching the groms interact and compete along side some of their surfing mentors was not only unique, it undoubtedly raised the level of their surfing- which will further equip them as they prepare for their own competitive careers." Contest Director Chris Williams.
What's on tap:
* Huge Cash prizes for Pro winners – $5,000 -1st place, $1,700-2nd, etc. (NEW! Additional cash added, down to equal ninth) Thousands in Surf Ride Store Credit for Family Division winners- $850 Juniors, $750 Boys, $500 Women, etc.
* ASP trained Judges
* Real time Scoring
* 20 minute heats
* Huge welcome packs for competitors
* Family BBQ provided by Vans
* $20,000 up for grabs at the Season Championships in May.
* Partial proceeds raised presented to the Camp Pendleton Kids After School Surf Club provided for youth living on base.
Register Now